News

30.01.2015
For our K-KONTROL panels were issued the European Technical Assessment ETA on the 2nd January 2015. On the base of this document we are able to deal the building system K-KONTROL into Europe Union market. The K-KONTROL panels made in compliance with ETA are marked CE.

18.02.2014
Have a look at photos from Wooden Constructions 2014 exhibition.
We introduced the following:
Production of our unique K-KONTROL sandwich system and I-OSB beams. Implementation of prefabricated wooden structures, low-energy and passive family houses, extensions, roofs and industrial buildings. New: D-TACK - a full-scale system of foils, sealing strips and other components, not only for your roof.

04.02.2014
News - Carpinus Family House With Minimum Operation Cost.
A ground floor building for a family of two or three. This house requires minimum investment and minimum operational cost.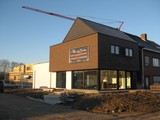 07.01.2014
Parc du Sud is a residential project of several buildings in a new park situated on Luikersteenweg Sint-Truiden, Belgium.
Here is a view of the first building construction from K-KONTROL system for 25 flats and underground garage lots.

01.11.2013
School building extension in Bystřice Encasement of the steel construction with K-KONTROL system.

21.08.2013
We have designed a wooden construction inspired by the Antarctic research station. A moder family house with a construction from K-KONSTROL system that imitates what is built for polar researchers.
Complete article available here

17.08.2013
Europe - Our Target! Here you can see pictures of one of our shipments to Belgium. There are many places where K-KONTROL construction system and I-OSB glued wooden beams from CZECH PAN s.r.o. are implemented.
08.07.2013
Delivery of a I-OSB beam and other construction material for a passive family house in Liberec.

02.07.2013
Expert construction portal ČESKÉ STAVBY.cz voted the BETULA type project by CZECH PAN the best type house of the month in July 2013. More information about the house in our
type project catalog
Complete articles available
here.

27.05.2013
Current photo illustrating the reconstruction and extension of a block of flats in Prague using I-OSB beams.
1) I-OSB beams are suitable for the reinforcement of existing ceilings. Supporting beams are added to construct closing anchors from OSB boards.
2) I-OSB beams are applied in the ceiling construction of the new extension storey.
Very light construction, very easy handling and application! Produced for a precise dimension.